TABLE OF CONTENTS
If you are in the automobile market for the first time, buying or selling a used car is not easy. You will have to prepare yourself for various dealership showrooms trips and hang with multiple managers and sales executives. If you don't have to spend time negotiating with dealers, there is also a better and contemporary option – Car Dealership Apps.
You can move online as it is a convenient way to shop for cars from the comfort of your couch. By now, you must be well aware of what we are talking about. Yes, we are talking about intelligent car dealership apps. If you want to create a Car Dealership mobile app that makes buying and selling cars easier, Look no further than Boffin Coders! Our team of experts specializes in creating top-notch apps that are both user-friendly and highly functional. With our help, you can use the latest technology to streamline your car dealership operations and boost your sales. One of the best advantages of having a car dealership app is there is no need to move a single muscle as you can buy a new car in just a few clicks.
You will get to know about 20 car dealership apps that you can use and this list is based on research online. No Paid or Sponsored Links are provided here.
Here are 20 car dealership apps and their details:
Also Visit: Search Engine Optimization Services in Mohali
1. Car Gurus:
Car Gurus is an app that helps both car buyers and sellers to buy and sell cars at an affordable range of prices. The app is well-built with a powerful search engine where you can also search for a vehicle based on the make and model. You can find various deals and vehicles for sales here.
Car Gurus has 3.6/5 ConsumerAffairs Rating
| | |
| --- | --- |
| Type of Cars | New and Used Both |
| Founded in | 2006 |
| Google Rating | 3.3/5 |
| Countries Served | US, UK, Canada |
2. Kelly Blue Book:
There is no doubt that Kelly Bluebook is one of the best car apps for all buyers and sellers. The app is famous for offering accurate pricing information about various vehicles. You also get real-time access to blue book pricing. The app provides instant car related information.
Its rating is 4.6/5 as per Best Company
| | |
| --- | --- |
| Type of Car | New and Used Both |
| Founded in | 1926 |
| Google Rating | 4.3/5 |
| Countries Served | US, Brazil, Canada |
3. CarFax:
If you have doubts about the vehicle's history, CarFax is one of the most useful apps for knowing a car's history. One of the best advantages of the app is it provides all the services at zero cost. Most car dealers use the app to save their investment from going in vain. CARFAX started with a vision – to be the leading source of vehicle history information for buyers and sellers of used cars.
| | |
| --- | --- |
| Type of Car | Used Cars |
| Founded in | 1984 |
| Google Rating | 3.9/5 |
| Countries Served | United States |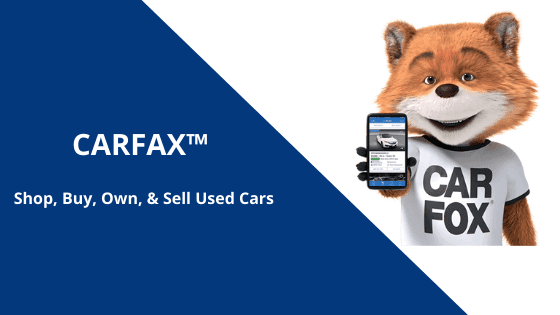 4. Edmunds:
If you are looking for a professional car dealership app to find various tools to find the best car at the right price, the Edmunds app is made for you. You can also calculate your monthly rental and save your research.
| | |
| --- | --- |
| Type of Cars | New and Used Both |
| Founded in | 1966 |
| Google Rating | 4.6/5 |
| Countries Served | United States |
5. Auto Gravity:
Finding the right car at the best prices is one of the critical advantages of Auto Gravity. On the other hand, finding a loan is quite difficult in the app. Auto gravity is a confident and reliable app for buying cars.
6. Blinker:
If you cannot find the right finance option for the vehicle in Auto Gravity, you will find it in the Blinker. You can shop for cars, trucks, SUVs and semi-trucks from qualified dealers in America. Blinker also guides all the buyers and offers a unique and user-friendly interface.
7. True Car: 
The True car is an intelligent car dealership app for all the intelligent car buyers who don't overwhelm with exciting discounts and sale images. The elegant user interface and modernized features of the app make it perfect for the app.
8. Car Max:
Car Max auto dealership app is quite popular for stable pricing and also offers negotiation for budget buyers. You can also read vehicle history reports and reviews about multiple vehicles.
9. Auto Trader:
Auto trader is a smart location-based car dealership app that helps all the buyers in finding and comparing various models in your local region. You can also save your information, contact local dealers, and get classic numbers.
10. Cars.com:
Cars.com offers similar tools like CarFax but its unique comparison tool where you can compare three tools at one time makes it special.
11. I See Cars:
I See Cars app is quite similar to Snapchat, where you can get various filters and photos free of cost. Car buyers get 59 different filters to find what they need with an amazing analysis tool. You also get honest dealer ratings, but you will have to compromise with annoying advertisements.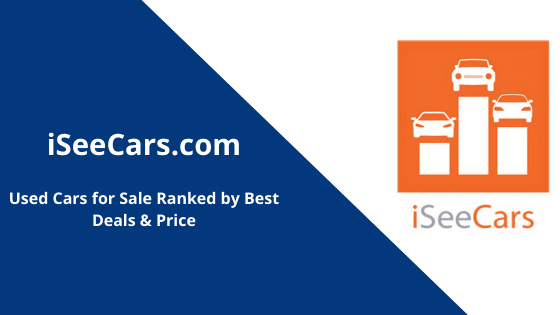 12. Auto List:
As Mitochondria is the powerhouse of the human cell, the Auto list is the powerhouse of auto dealers. The app claims to offer more than 24.5 million selections of both used and new cars. The app is also quite easy to use and also offers various statistics associated with the vehicle.
13. Craigslist: 
Craigslist is an innovative auto dealership app helping buyers in contacting private dealers and their websites. Auto buyers can use various filters and shop for the best car which fits their budget.
14. Credit Karma: 
Currently, buying cars is not an easy job, and a poor credit score can exert tons of pressure and financial burden with higher interest rates. The credit karma app is a free tool that helps all auto shoppers by providing customized recommendations.
15. Used Car Search Pro: 
If you are not a rookie auto buyer and have a clear idea about what type of car you want, then a used car search pro is the best place to start. The app provides various listings of both private and authorized dealers in your locality.
16. Consumer Reports:
Consumer reviews or reports is not a new name in the industry as anyone can buy or sell cars using the app. The app provides detailed reviews about both used and new cars, which helps auto shoppers categorize their needs by understanding the vehicle.
17. Carvana:
If you want to trade in your old vehicle and buy a new car by paying for the difference, the Carvana app and you are made for each other. The app has a diversified inventory consisting of various vehicles. The app also covers various aspects like model, make, age, and fuel efficiency.
| | |
| --- | --- |
| Type of Cars | Used Cars |
| Founded in | 2012 |
| Google Rating | 2.8/5 |
| Country Served | United States |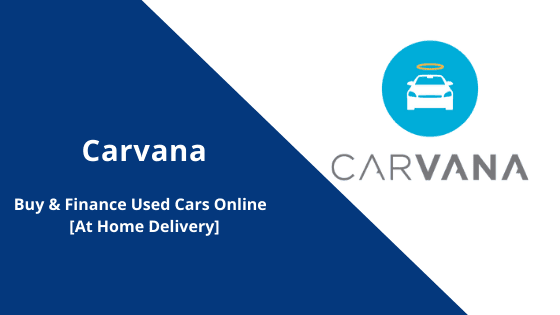 18. Fair:
Fair is not a conventional car buying app, but it is a new app with a new concept that makes it fair for auto shoppers. You can choose the vehicle of your choice and pay 1000 USD every month until you use the car.
19. Insta Motor: 
Insta motor is an interactive platform that connects auto buyers and sellers effectively. The app doesn't provide room for cars from auto dealers but helps auto sellers and buyers by organizing a private sale.
20. NADA Values:
NADA Values is a specialized app designed for car valuation and sales. You can also trace a vehicle's past by entering the VIN or Vehicle Identification Number.
The digital auto market will soon emerge as a leading sector, driving a lot of sales and liquidity in the industry. One of the main reasons behind the rapid development is the automobile market is always open for new technologies making drives easier. Utilizing apps can add value to your research and can also clear doubts associated with the vehicle.
So why wait? Contact us today to learn more about how we can help you take your business to the next level with our custom Car Dealership mobile apps! Features can be customized according to the client's needs. Just drop in your message at info@boffincoders.com, or call +91-95699-95399 to discuss your needs!
I currently work as a product manager for a company that specializes in Web & Mobile App Development, where I lead the projects from scratch and delivers them to the cloud. I love working with projects on .NET Core, NodeJS, ReactJS, Angular, Android, iOS, and Flutter.
Do you have a project to discuss? Contact me on Skype at er.manojsethi